AN ANALYSIS OF ENTAILMENT FOUND ON COSMETIC AND FAS FOOD ADVERTISEMENT
Keywords:
Keywords: Entailment, Advertisement
Abstract
ABSTRACT:
This research intended to find out the types of entailment found on advertisement of cosmetic and fast food. In conducting this research, the research use qualitative method with content analysis because the data were collected from document, in form of words and the explanation of the result. The researcher used note taking as instrument of this research in order to get the valid data. The findings showed that there are two types of entailment that used in cosmetic and fast food advertisement, those are: one-way entailment which occurs 10 times and two-way entailment which occurs 6 times. The dominant type of entailment on advertisement was one-way entailment with 10 times or 62.5%.


References
REFERENCES

Abdeelal. (2014). Advertisement Analysis: A Comperative Crittical Study.
Ary, C. L. (2010). Introduction to Research in Education 8th edition. Wadsworth, Belmont, CA 94002-3098, USA: Cengage Learning.
Bagha, K. N. (2011). A Short Introduction to Semantics. Journal of Language Teaching and Research.
Cleo condoravdi, D. C. (2002). Entailment, Intentionality and Text Understanding.
Cook, G. (1992). The Discourse of Advertising. London.
D, A., L, C., & C, S. (2010). Introduction to Research in Education 8th edition. Wadsworth: Cengage Learning.
D, A., L, C., & C, s. (2010). Introduction to resesarch in education. Wadsworth: Cengage learning.
E, P. (2005). Language and Meaning: Data Collection In Qualitative Research. Journalofl Conseling Psychology .
Griffiths, P. (2006). An Introduction to English Semantics and Pragmatics. Edinburgh: Edinburgh University Press Ltd.
Hikmah, S. N. (2017). An analysis of language presupposition in advertisement of TV channels in Indonesia.
Hilyatus, S. (2014). A Semantic Analysis of Entailment Applied by the Main Character in the movie Life of Pi. Yogyakarta: H Sa'adah.
Indarti, G. A. (2016). Distinguishing Entailment and Presupposition. LLT JOURNAL.
Ja'far. (2008). Entailment and Presupposition.
Kothari, C. (2005). Research methodology. New Delhi: NEW AGE INTERNATIONAL (P) LIMITED, PUBLISHERS.
Kreidler, C. W. (1998). Introducing English Semantic. London: Routledge.
Mohamed, A. N. (2014). Advertisement Analysis: A Comparative Critical Study . Advances in Language and Literary Studies, 1.
Rahmawati, Y. (2017). A SEMANTIC ANALYSIS OF ENTAILMENT. YOGYAKARTA: Yesi Rahmawati.
Rambaud, M. G. (2012). Basic Semantics. Madrid: Universidad Nacional de Educación a Distancia.
Septiani, P. E. (2017). An Entailment of The Dead Days Comic.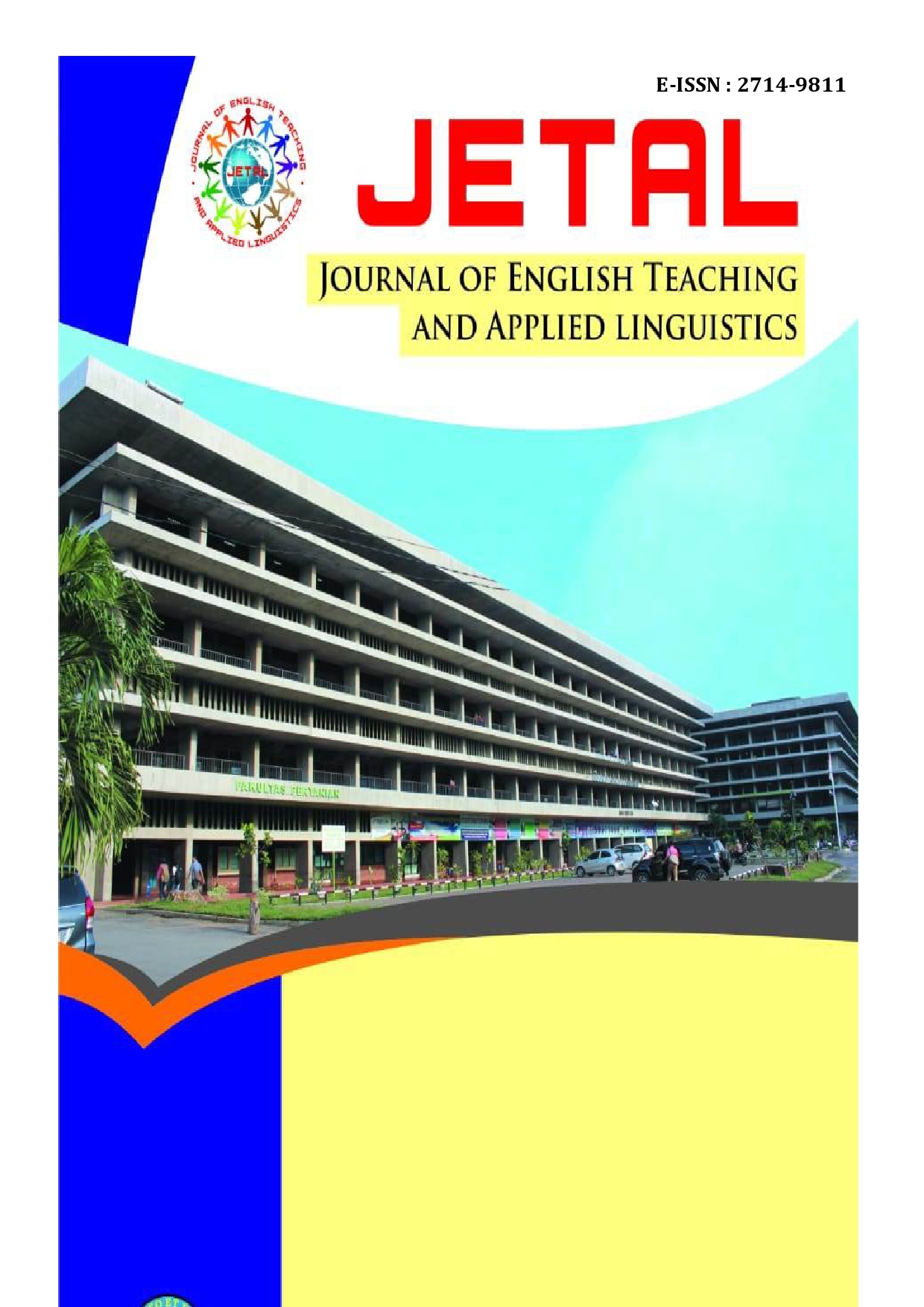 This work is licensed under a Creative Commons Attribution-ShareAlike 4.0 International License.