HUBUNGAN STRES TERHADAP DISMENORE PADA MAHASISWI FAKULTAS KEDOKTERAN UNIVERSITAS HKBP NOMMENSEN MEDAN
Rebecca Rumesty Lamtiar

Universitas HKBP Nommensen

Deby Berliana Rumahorbo

FK Universitas HKBP Nommensen Medan

Ita L Roderthani

Departemen Ilmu Kesehatan THT Fakultas Kedokteran Universitas HKBP Nommensen
Abstract
Abstract
Background: Menstruation is one of the signs of maturity of the female reproductive organs. During menstruation a woman experiences bleeding through the vagina and also experiences some annoying things, such as changes in emotions and feeling pain in the pelvis and abdomen which is often referred to as dysmenorrhea. Dysmenorrhea is caused by increased production of prostaglandins which cause ischemic and stimulate myometrium contractions. Some factors trigger the occurrence of dysmenorrhea such as early manarche, elongated menstruation, smoking, alcohol consumption, obesity and stress. Stress is the human body's response to the stressors it experiences. Stressful conditions alone can cause disruption to the working system in the human body including the endocrine system.
Purpose: This study aims to find out the relationship between stress to dysmenorrhea in students of the Faculty of Medicine, HKBP Nommensen University Medan.
Method : This study was a descriptive analytical study. The sample were 44 active students of the Faculty of Medicine of HKBP Nommensen University Medan who filled  the criteria of inclusion and exclusion by purposive sampling. The data was analyzed in a univariate way to describe the average stress score and dysmenorrhea of the subject, normality test using Kolmogorov-Smirnov test and bivariate analysis using Pearson test method to determine the correlation between stress variables to dysmenorrhea.
Result : Moderate correlation between stress to dysmenorrhea and correlation coefficient value r=0.495 (p= 0.000).
Conclusion: The higher the stress score, the higher the dismenorrhea score in students of the Faculty of Medicine, HKBP Nommensen University Medan.
Keywords : Stress, Dysmenorrhea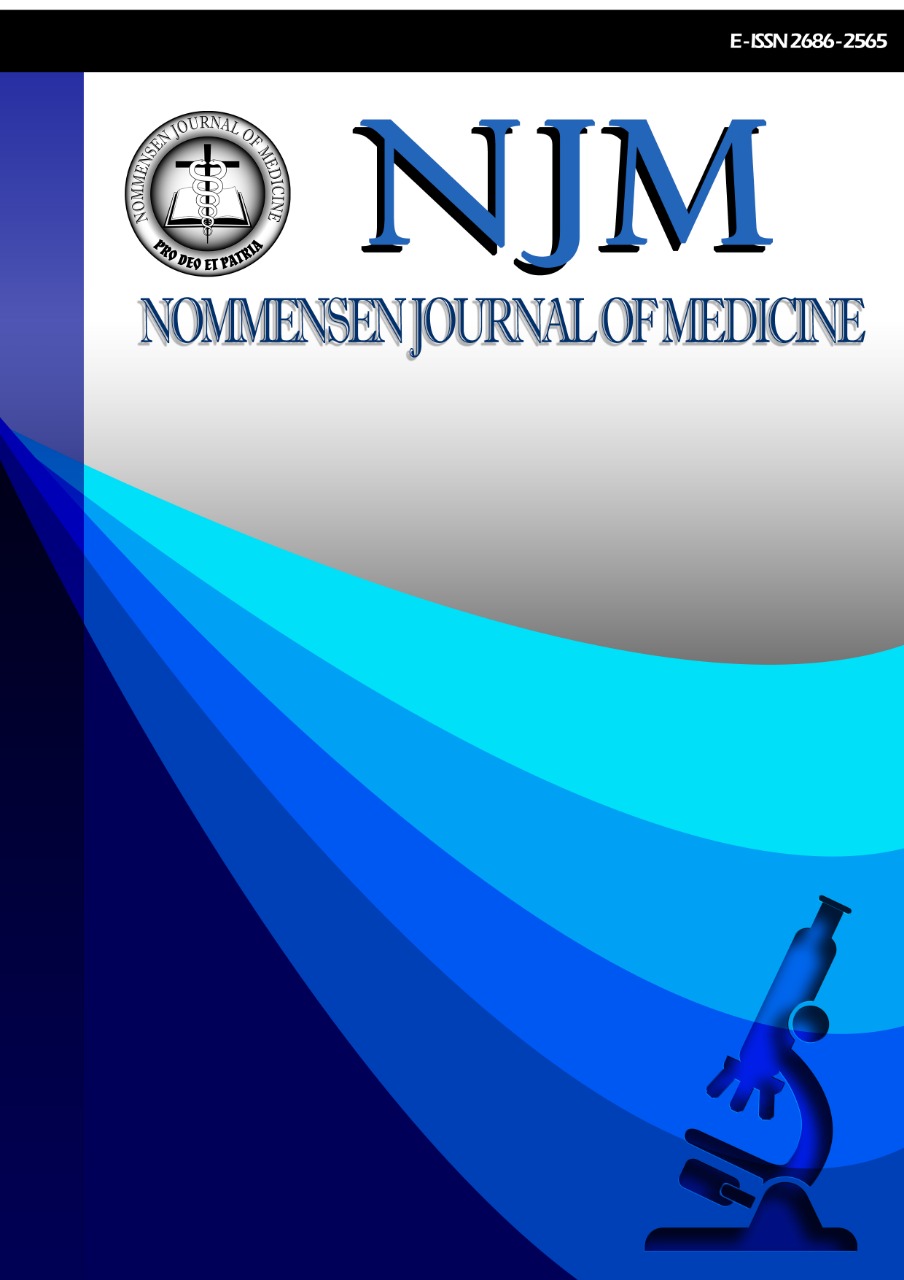 How to Cite
Lamtiar, R. R., Rumahorbo, D., & Roderthani, I. (2022). HUBUNGAN STRES TERHADAP DISMENORE PADA MAHASISWI FAKULTAS KEDOKTERAN UNIVERSITAS HKBP NOMMENSEN MEDAN. Nommensen Journal of Medicine, 8(1), 54-57. https://doi.org/https://doi.org/10.36655/njm.v8i1.776

This work is licensed under a Creative Commons Attribution-NonCommercial 4.0 International License.