Pengeringan Kopi Arabica Sistim Terintegrasi Penyimpanan Termal Dengan dan Tanpa Desikkan
Parulian Siagian

Prodi Teknik Mesin Universitas HKBP Nommensen

Richard A M Napitupulu

Prodi Teknik Mesin Universitas HKBP Nommensen

Siwan P Peranginangin

Prodi Teknik Mesin Universitas HKBP Nommensen
Keywords:
Coffee, solar thermal, storage desicant, coffee taste
Abstract
Penelitian ini mengkaji dan meniliai keefektifan pengering surya yg kontiniu dan terintegrasi dengan pengeringan penyimpanan panas dikombinasikan dengan molekuler13 (Na86 [(AlO2)86 (SiO2)106] 264H2O) sebagai penahan kelembapan.
Hasil menunjukkan pada kondisi terik matahari, temperature didalam ruang pengering cenderung berbeda antara 42.100C-46.600C dan rata rata 6.700C -11.180C diatas tempratur ambient,  rata rata kelembapan 68.94% dengan rata rata kecepatan udara 1.16m/s. Pengeringan konvensional membutuhkan waktu selama 5 hari dengan temperatur maksimum 35.420C pada  rata rata kecepatan angin 0.7m/s. Waktu pengeringan dengan menggunakan desikkan dan tanpa menggunakan desikkan adalah 35 jam dimana bobot 8.207.kg pakai desikkan dan bobot 8.370.kg tanpa desikkan dengan kadar air 13%, sementara pengeringan konvensional membutuhkan  waktu 120 jam atau 5 hari dengan suhu maksimum 35.420C dan suhu rata rata 29.700C. Mutu aroma kopi oleh tim teaster bahwa yang memakai desikkan cenderung aroma  aromatic better dan coklat, caramel serta rasa pahit yang kuat, sementara tanpa desikkan ada rasa pahit agak lemah dan rasa defect
References
[1]. Directorate General of Estate,. Coffee Production by Province in Indonesia, 2018-2022
[2] H. Ambarita, "Development of software for estimating clear sky solar radiation in Indonesia," Journal of Physics: Confer- ence Series, vol. 801, article 012093, 2017.
[3]. Belessiotis V, Delyannis E. Solar drying. Solar Energy, 2011, 85 (8): 1665–1691
[4] S. F. Dina, H. Ambarita, F. H. Napitupulu, and H. Kawai, "Study on effectiveness of continuous solar dryer integrated with desiccant thermal storage for drying cocoa beans," Case Studies in Thermal Engineering, vol. 5, pp. 32–40, 2015.
[5] P. Siagian, E. Y. Setyawan, T. Gultom, F. H. Napitupulu, and H. Ambarita, "A field survey on coffee beans drying methods of Indonesian small holder farmers," Materials Science and Engineering, vol. 237, article 012037, 2017
[6] M. Yahya, R. Hasibuan, R. Sundari, and K. Sopian, "Experi- mental investigation of the performance of a solar dryer inte- grated with solid dessicant coloums using water based solar collector for medicinal herb," International Journal of Power Electronics and Drive Systems, vol. 12, no. 2, pp. 1024–1033, 2021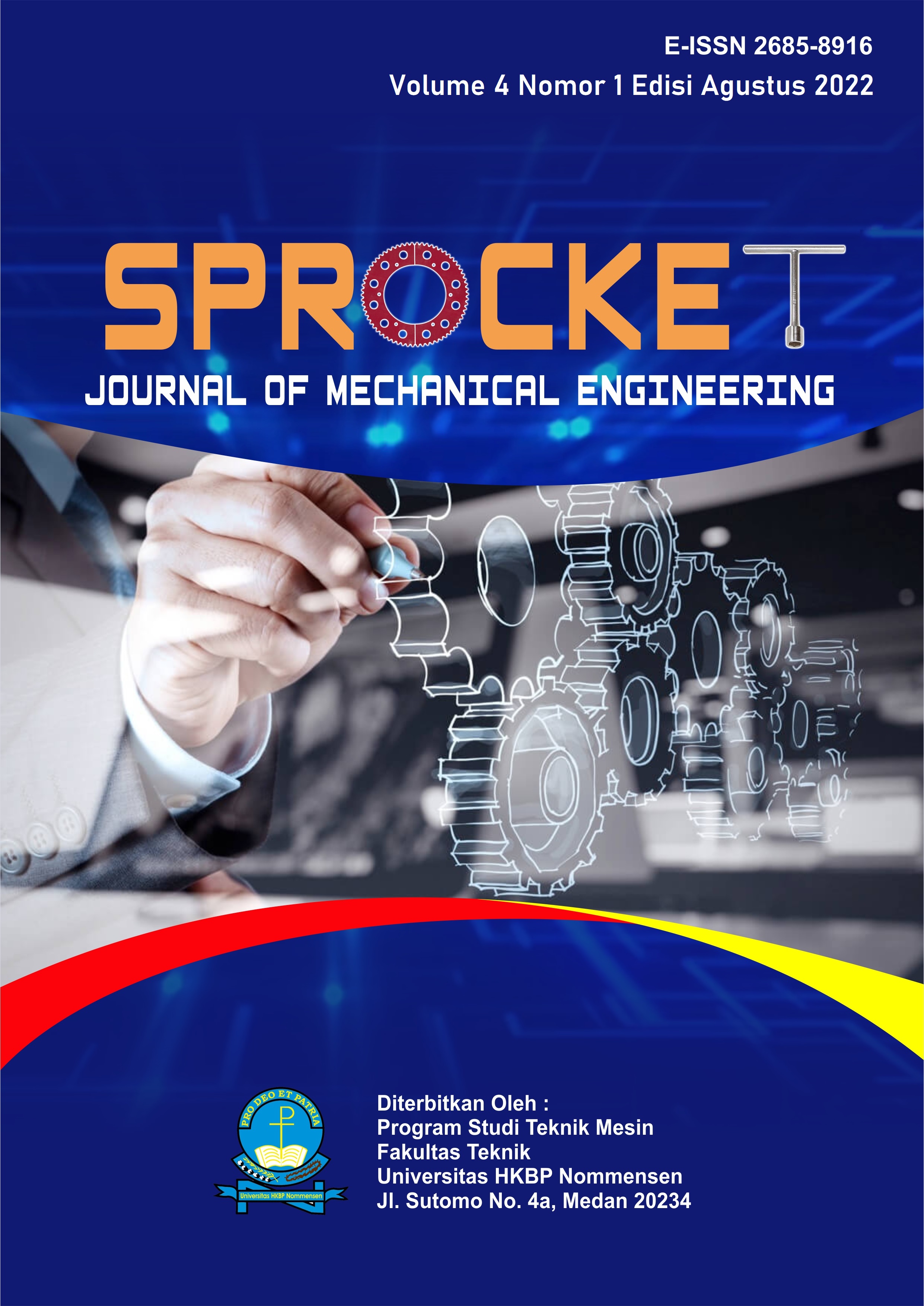 How to Cite
Siagian, P., Napitupulu, R., & Peranginangin, S. (2022). Pengeringan Kopi Arabica Sistim Terintegrasi Penyimpanan Termal Dengan dan Tanpa Desikkan. SPROCKET JOURNAL OF MECHANICAL ENGINEERING, 4(1), 58-66. https://doi.org/https://doi.org/10.36655/sprocket.v4i1.778
This work is licensed under a Creative Commons Attribution 4.0 International License.
Copyright @2017. This is an open-access article distributed under the terms of the Creative Commons Attribution-NonCommercial-ShareAlike 4.0 International License (http://creativecommons.org/licenses/by-nc-sa/4.0/) which permits unrestricted non-commercial use, distribution and reproduction in any medium