Analisis dan Perbaikan Produktivitas Proses Produksi di PT. XYZ
Erikco Limestan

Universitas Prima Indonesia

Roki -

Universitas Prima Indonesia, Medan

Jusra Tampubolon

Universitas Prima Indonesia, Medan
Keywords:
Productivity, OEE, production
Abstract
The production process of the company/manufacturing industry still often get obstacles, it made  the product specifications produced are not in accordance with the production. However, the company must also evaluate and improve its production process. One of them is PT. XYZ, which is engaged in the production of concrete, namely electric poles and piles. This company produces electric poles with various sizes including 9 meters, 11 meters, 12 meters. This research was conducted to measure the level of productivity and identify problems in the production process of electric poles at PT XYZ. This research used Overall Equipment Effectiveness (OEE) as the methode, which is a calculation carried out to determine the effectiveness of the machine. There are three elements of productivity as well as equipment effectiveness that can be measured by Overall Equipment Effectiveness (OEE), namely availability, performance efficiency, and product quality level. With the Overall Equipment Effectiveness (OEE) method in this study, this research tried to measure the level of effectiveness of the electric pole production process and found the root cause of the problems that hindered the achievement of productivity at PT XYZ.
References
[1]. Haryono, L., & Susanty, A. (2018). PENERAPAN TOTAL PRODUCTIVE MAINTENANCE DENGAN PENDEKATAN OVERALL EQUIPMENT EFFECTIVENESS (OEE) DAN PENENTUAN KEBIJAKAN MAINTENANCE PADA MESIN RING FRAME DIVISI SPINNING I DI PT PISMA PUTRA TEXTILE. Industrial Engineering Online Journal, 6(4). Retrieved from https://ejournal3.undip.ac.id/index.php/ieoj/article/view/18274
[2]. Hudori, M. (2018). Pengukuran Efektivitas Mesin Produksi Besi Bondeck pada Industri Manufaktur dengan Overall Equipment Effectiveness. Jurnal Citra Widya Edukasi, 10(3), 253-258.
[3]. Rinawati, D. I., & Dewi, N. C. (2014). Analisis Penerapan Total Productive Maintenance (TPM) Menggunakan Overall Equipment Efectiveness (Oee) Dan Six Big Losses Pada Mesin Cavitec Di PT. Essentra Surabaya. Prosiding SNATIF, 21-26.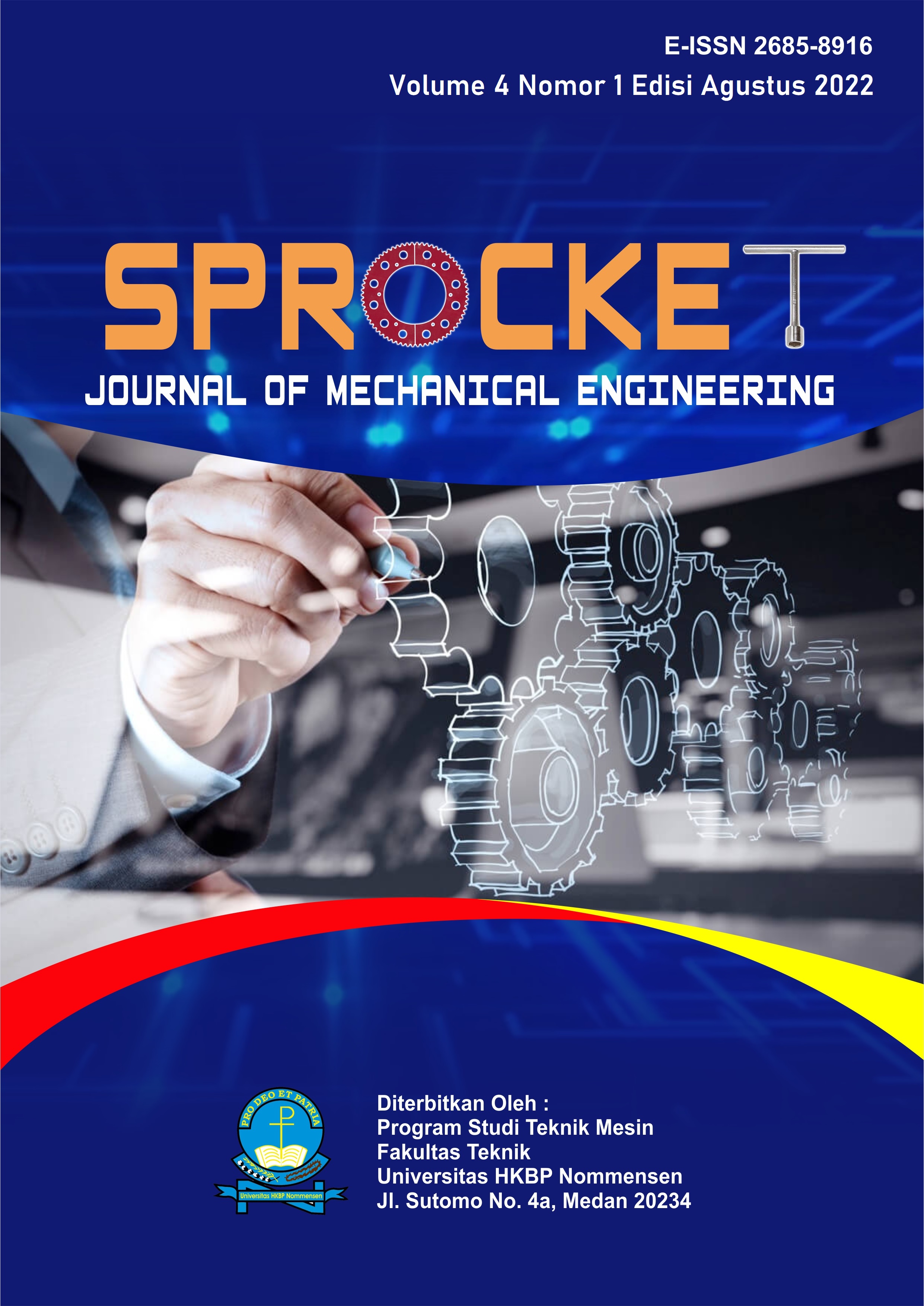 How to Cite
Limestan, E., -, R., & Tampubolon, J. (2022). Analisis dan Perbaikan Produktivitas Proses Produksi di PT. XYZ. SPROCKET JOURNAL OF MECHANICAL ENGINEERING, 4(1), 29-36. https://doi.org/https://doi.org/10.36655/sprocket.v4i1.739
This work is licensed under a Creative Commons Attribution 4.0 International License.
Copyright @2017. This is an open-access article distributed under the terms of the Creative Commons Attribution-NonCommercial-ShareAlike 4.0 International License (http://creativecommons.org/licenses/by-nc-sa/4.0/) which permits unrestricted non-commercial use, distribution and reproduction in any medium